"Since the invention of the photobooth, artists around the world have used photobooth photos in painting, collage, film, and video, taking advantage of the photobooth's uniquely expressive qualities."--from the Center Portion

website
Enter through the yellow door for a day of photo strip art, film, talks, free photo booths, and a workshop.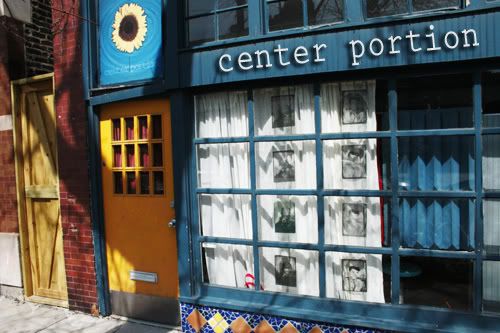 Center Portion is a unique artist project space imbued with Celtic, folksy energy emanating from the home of a talented poet in Logan Square from which the space has been "
carved
." The theatre space was especially folksy with eclectic purple and blue seats watching the oldest photobooth at the convention on the stage. The younger booths were in the gallery space but "Betty's" had admirers from as far as England paying homage to her introspective gaze, these hardcore convention revelers were friendly and engaging. Laid out to dry, our strips were an invitation for conversation. One woman was fascinated with her feet that day and dragged a small table toward the booth to lean on so that Betty could capture them properly naked. She had quite a few pieces in the gallery show.
Works created during the "Altered Photography" workshop are on the left. The (kraftacular) convention poster hangs center. On the right are the beginnings of the exhibition of photo booth inspired art. From the literality of strips mounted in their original form to strips scanned, blown-up, remixed, and reprinted culminating in the transcendental: strips knitted punched and juxtaposed with found objects. I was especially drawn to the last permutation of photo-chemical strips and found objects; neither element has a negative, their union singularly normative yet abstract.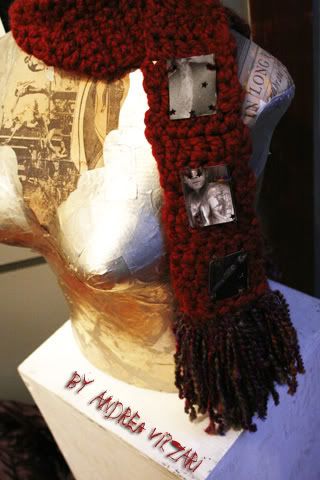 I love this piece by Andrea Vizzari, my photo does not do it justice. Andrea and Anthony Vizzari run
312photobooth
, a company which provides photo booths for weddings and other events along with their case of costumes. They generously provided their (three!) photobooths and costumes for the convention furnishing all attendees with free strips!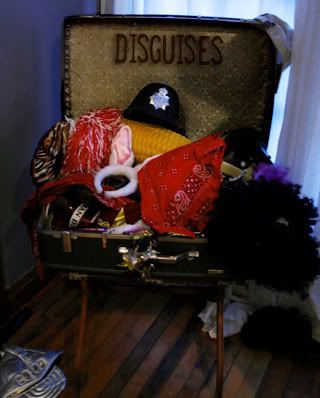 Various wigs, specs, & hats in a vintage suitcase.
I foraged for the bunny ears, feather boa, feather mardi gras mask, tiger print cow boy hat, red bandana, giant scissors, and kitchy black specs but was a little disappointed at the lack of fairy wings. 
I went into the color photobooth with my journal where I had pasted a copy of a photobooth picture of myself as a child holding my Puffalump soul mate and when I walked out there was a little girl staring at me who looked just like me in the picture and at five she could already work a room.  She had her parents, Agent Pineapple, and I doing pirouettes and swaying like trees. I discovered that we had more in common as she gravitated towards traditionally masculine costumes like a clear mask with a painted mustache and a knight's helmet. I was a ninja three times for halloween and a knight once. The mustached little girl instructed her father to go in a booth solo with supersize hot pink sunglasses and a feather boa and of course he complied with a big grin because there was no saying "no" to this cutie. I hope she discovers the strips ten years from now and smiles.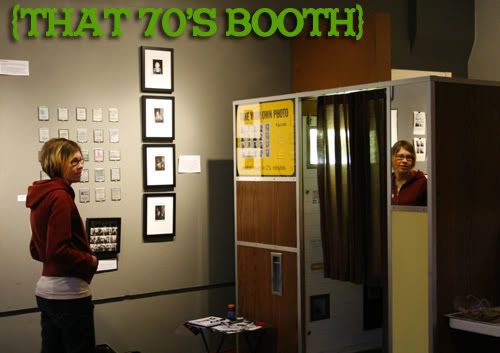 Some people didn't realize that the curtain was see-through when they did cute kissy face pictures...ahem.  Nothing wrong with a little tasteful relationship documentation, we saw 60 year olds doin it. Needless to say if I ever get married there will be a photo booth and an espresso bar with those barista-artists that make designs in the foam!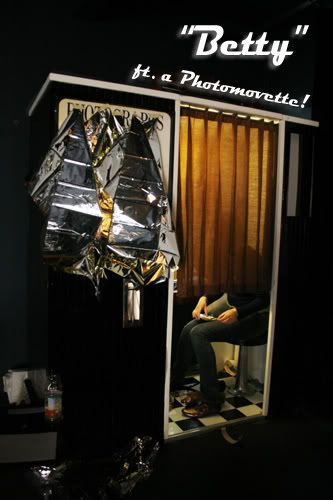 I think those are the feet of Carole from
Photomovette
(cute little feet in cute little shoes). The duo flew in from London and encountered a stuffed monkey during their travels who was featured in his very own photo strip. I pointed out that he had a belly button.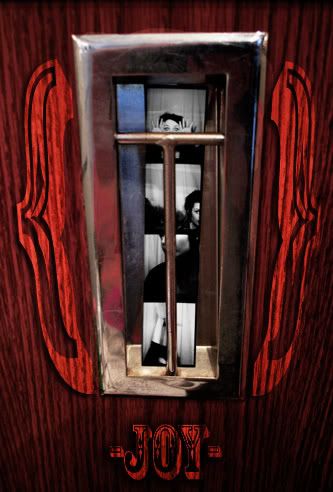 Rummaging through costumes and smuggling them into the booth, drawing the curtain, hastily assembling inside away from curious eyes, the count down, four chances, tearing off the disguise, waiting to snatch the print, joy.
A sample of the results: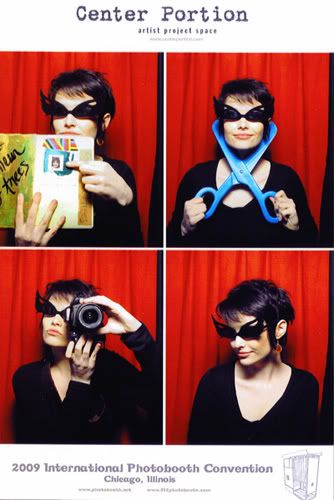 I can't wait to burn, scratch, and generally deface them some more. Transfer, glitter, paint, and cut. Journal journal journal fodder, oy!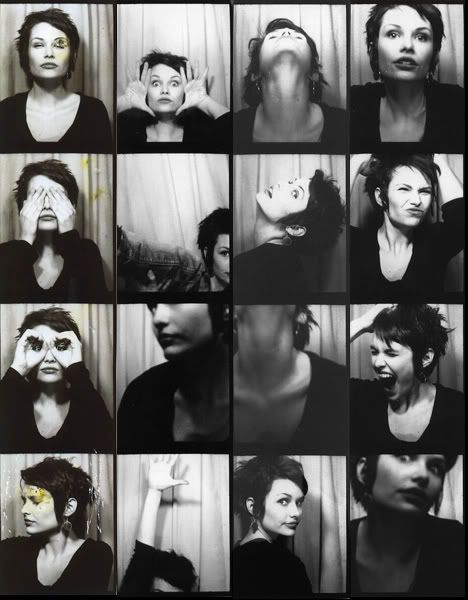 xo

Lara